Laboratory roll mill Polymix 150L
The laboratory roll mill Polymix 150L with a roll diameter of 150 mm is the best solution for mixing all kinds of plastic and rubber materials:
Latest technical concepts for drives, gap adjustment and heating as well as an innovative safety system are combined with dimensions and elements proven for many years.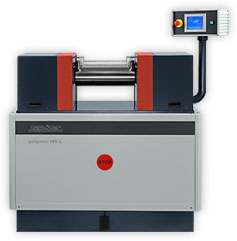 Basic layout
Drives, gap adjustment, lubrication system and the electrical enclosure are mounted in a frame and allow easy access for maintenance. Operating elements and controllers are located in a central panel besides the roll unit. Operation from both front and rear side is possible by turning the panel.
Rolls
The rolls are made of corrosion resistant chrome alloy steel with hardened and ground surfaces. A chrome plating can be delivered to meet high requirements to the surface quality.
Central oil lubrication-system together with high working temperature seal rings allows low maintenance requirements. The working area is determined on the front roll by polished material guides made of cast iron. For special applications the material guides can be made for front and rear roll separately with an overlapping in the working area. A hinged version allows easy cleaning.
Drive
The machine is equipped with two geared AC-motor drives which are located below the roll unit for compact design. Power transmission is done by roller chains. The basic machine comes with two fixed speeds and a constant friction. As an option the speed can be made adjustable. This allows adjustable speed between 5-35 rpm and setting of different friction values.
Gap adjustment
Gap adjustment is motor driven. A toggle-lever system leads to high forces within the working range as well as to a quick E-Stop opening. Working range is usaully 0,3 - 2,0 mm; on customers request a working range between 0,2 - 8,0mm can be provided). Gap width is shown on a digital display.
Safety
The safety layout has been developed together with German safety associations and meets the latest European safety norms. The safety concept includes mechanical brakes, a quick opening system, knee switches and two safety levers along the roll gap with improved and optimized position.
In case of danger the quick opening realize a fast opening to 50mm in less then 3 secs.
Heating
Heating of the rolls is provided electrically with long-life-cartridges. Temperature distribution is assured with copper insert which equalizes variances along the roll and short heating rate.
A water cooling can be provided. Optionally we also offer external units for heating with oil or water.
Polycontrol
Combination of touch screen and PLC-control allows comfortable operation of the machine. The functions can be operated from different screens. An intensive use of graphic elements provides easy operation.
Polycontrol includes set point management, automatic gap width control, program management with time sequences in four steps and several helpful functions for the daily use in a laboratory. On request an interface to Microsoft Excel is available
The basic machine can be modified with numbers of options to meet customer requirements.
Chrome plated rolls, hinged material guides, various drives, water cooling, an extended touch screen control Polycontrol, as well as other options.
Machines are delivered complete with all integrated controls.
Detailed views Polymix 150L
Technical Data Polymix 150 L
| | | |
| --- | --- | --- |
| Polymix 150 L | unit | value |
| Roll diameter | mm | 150 |
| Roll width | mm | 450 |
| Working width | mm | 380 |
| Roll speed constant | min-1 | 16 / 20 |
| Roll speed adjustable | min-1 | 5 - 35 |
| Drive power | kW | 2 x 3,0 |
| Drive Torque | Nm | 1000 |
| Roll temperature | up to °C | 220 |
| Heating power per roll | kW | 6,0 |
| Machine length | mm | 1400 |
| Machine depth | mm | 800 |
| Machine height | mm | 1350 |
| Machine weight | kg | 950 |